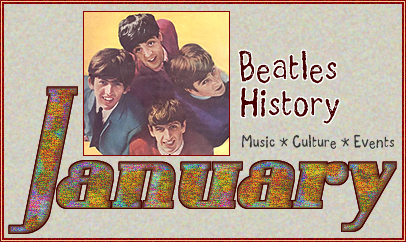 History offers
a chance
to truly
understand
how the past
impacts the now.


Follow our
daily timelime
of historical
events to
discover the
role The Beatles
played in changing
the modern world.
THE FOLLOWING EVENTS TOOK PLACE ON JANUARY 11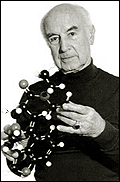 1906--Albert Hofmann, the chemist who discovered LSD, is born in Switzerland.

1962--The Beatles perform a lunchtime show at the Cavern Club.

1963--UK release of The Beatles' single Please Please Me / Ask Me Why (Parlophone). 11 weeks on the charts; highest position #1. "I can't think of any other group currently recording in this style," notes NME reviewer and DJ Keith Fordyce. "I shan't be in the least surprised to see the charts invaded by Beatles."

1963--The Beatles perform a lunchtime show at the Cavern Club, Liverpool. That afternoon they travel through hazardous icy weather to reach the Plaza Ballroom, Old Hill, near Dudley, Staffordshire, for their first scheduled evening performance. But they are unable to make it the 11 miles to the Ritz Ballroom, King's Heath, Birmingham, Warwickshire, due to a blizzard and the coldest temperatures in seven years. The Ritz performance is rescheduled for February 15.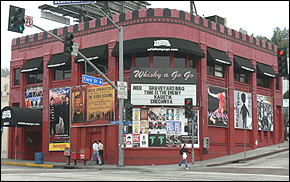 1963--The first discotheque, The Whiskey a Go Go, opens on the Sunset Strip in Los Angeles, California. Following the "go-go / twist" dance craze," the rock club would become a hangout for musicians trying to break into the music industry, as well as the launch pad for early-psychedelic rockers, The Doors.

1964--The Beatles perform at the Astoria Cinema, Finsbury Park, London. Appearing in the final two performances of "The Beatles' Christmas Show."

1965--The Beatles put on two performances of "Another Beatles Christmas Show" at the Hammersmith Odeon in London.

1968--The British television program "Top of the Pops" broadcasts Hello Goodbye. The Hello Goodbye film clips that The Beatles recorded at the Saville Theatre on November 10 could not be used in the UK due to a Musician's Union ban on lip-sync performances, so footage from the "Magical Mystery Tour" movie is shown to accompany the song.

1968--Jimi Hendrix moves into a London townhouse formerly owned by the classical composer George Frederick Handel. The guitarist tells the Daily Mirror that he will "not let the tradition down."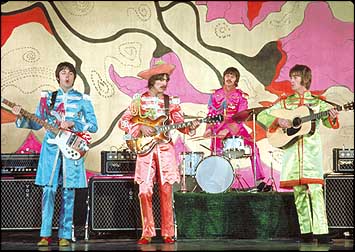 1989--One hundred and forty nations agree to ban chemical weapons.

1994--News of a possible Beatles reunion takes center stage on television newscasts in the UK, with reports appearing throughout the day on both the BBC and ITN news. Ironically, as the get-together is being dismissed by sources close to the group, the first Paul, George and Ringo reunion session (scheduled to take place today at Paul's home studio, The Mill, in east Essex) is cancelled, not because of the public backlash against them reforming, but because Ringo decided to go on a ski holiday with his wife, Barbara.

1997--The Telstar 401 Satellite fails.

For more day-by-day history go to HistoryUnlimited.net