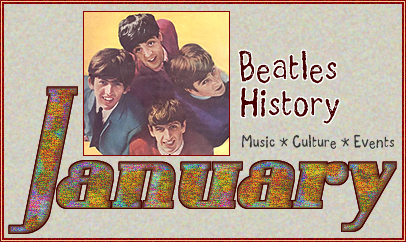 History offers
a chance
to truly
understand
how the past
impacts the now.


Follow our
daily timelime
of historical
events to
discover the
role The Beatles
played in changing
the modern world.
THE FOLLOWING EVENTS TOOK PLACE ON JANUARY 10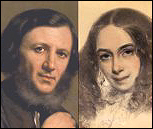 1839--Tea arrives for the first time in the UK from India.

1845--Poets Elizabeth Barrett and Robert Browning begin their correspondence.

1863--The world's first underground railway service, London's Metropolitan line between Paddington and Farringdon, is opened.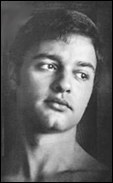 1935--Rockabilly performer Ronnie Hawkins is born in Huntsville, Arkansas.

1939--Actor Sal Mineo is born Salvatore Mineo, Jr. in New York. As well as starring in "The Gene Krupa Story" and "Rock Pretty Baby" he also co-starred with James Dean and Natalie Wood in the cult classic, "Rebel Without A Cause." On the music scene, Sal scored a top 10 hit in 1957 with Start Movin' (In My Direction).

1945--Rod Stewart is born in London. He was a member of the groups The Jeff Beck Group and Faces, and moved on to a solo career, which included the hits Maggie May, Reason to Believe, Handbags and Glagrags, Tonight's the Night, and Do You Think I'm Sexy.

1958--The Quarry Men (John Lennon, Paul McCartney, Eric Griffiths, Colin Hanton, and Len Garry) perform at New Clubmoor Hall, Norris Green, Liverpool.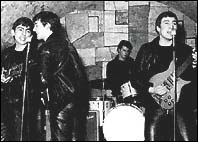 1962--The Beatles perform an evening show at the Cavern Club.

1963--The Beatles perform at the Grafton Rooms, Liverpool. This is The Beatles' first appearance on home ground in nearly a month, and they head a five-act line-up. The evening is a great success, setting a new attendance record for the Grafton Rooms.

1964--The Beatles perform at the Astoria Cinema, Finsbury Park, London. Appearing in two performances of "The Beatles' Christmas Show."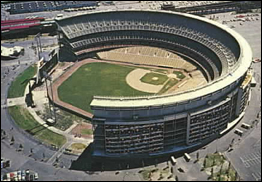 1965--American promoter Sid Bernstein telephones Beatles manager Brian Epstein to propose the Fab Four play New York's Shea Stadium.

1967--The Beatles in the recording studio (Studio Three, EMI Studios, London). The Beatles experiment with a variety of sound effects, some of them (such as scat harmonies and a hand-bell) being overdubbed onto Penny Lane.

1968--In New Delhi, India, the General Secretary for the Movement for the Spiritual Regeneration announces that The Beatles are coming to India to study transcendental meditation. George Harrison is currently in Bombay recording the soundtrack to Wonderwall.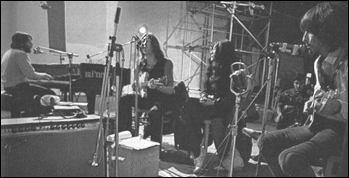 1969--The Beatles get back to Twickenham Film Studios to work on the "Get Back" project, but with no more success than on previous days. After bickering with Paul McCartney and confronting John Lennon with his lack of involvement in the sessions (which is met with mixture of silence and contempt from Lennon), George Harrison announces he's quitting The Beatles and walks out. But he doesn't exactly say, "I'm quitting!" Instead, at lunchtime he quietly walks up to John, Paul, and Ringo and says, "See you 'round the clubs." No one tries to stop him from leaving. After lunchtime John, Paul, and Ringo try to resume rehearsals. With the cameras rolling, and in what must have been an anguished moment for all, The Beatles start to play without speaking to one another. John's mood seems to be lightened by George's departure. He amuses himself by calling for the absent George to take solos. Yoko, sitting in George's place, begins to scream painfully while John, Paul, and Ringo play intensely, forcing feedback to overwhelm the studio. Then they stop, leave without speaking, and go home. [Note: In another account of the day's events, George makes a more direct statement that he's quitting The Beatles. Looking at John during the morning session, George reportedly says, "I'm leaving the band now." John replies, "When?" George says, "Now." This exchange makes sense in light of the subdued reaction of the other Beatles to George's "See you 'round the clubs" remark.]

1971--The trial over Paul McCartney's move to dissolve The Beatles partnership begins today in London's High Court. Ringo Starr testifies, "Paul behaved like a spoilt child."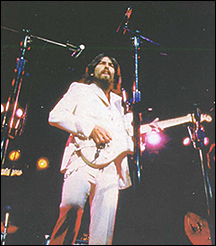 1972--UK release of George Harrison (and friends) triple LP The Concert for Bangladesh (Apple). Recorded live August 1, 1971. Songs: Bangla Dhun, Wah-Wah, My Sweet Lord, Awaiting On You All, That's the Way God Planned It, It Don't Come Easy, Beware of Darkness, While My Guitar Gently Weeps, Jumping Jack Flash / Youngblood, Here Comes the Sun, A Hard Rain's Gonna Fall, It Takes a Lot to Laugh-It Takes a Train to Cry, Blowin' in the Wind, Mr. Tambourine Man, Just Like a Woman, Something, and Bangladesh.

1972--John Lennon assists at Yoko Ono's concert in Alice Tully Hall at New York's Lincoln Center. Due to their failure to obtain US work visas, their performance has to be carried out from seats in the audience.

1973--In New York, with John Lennon nowhere in sight, Yoko Ono performs a solo concert during a meeting for the Organization of Women.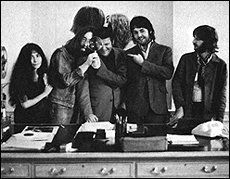 1977--Apple and Allen Klein's ABKCO settle pending lawsuits out-of-court; the cost to Apple is $5 million, and ABKCO's cost is $800,000. John Lennon signs his "release from Klein" papers in New York at the Plaza Hotel, where The Beatles first stayed after arriving in America on February 7, 1964. John and Yoko appear alongside Klein for a publicity photo to mark the agreement. Both sides praise Yoko's negotiating skills as the key to settling the complex legal situation. Paul McCartney, in preparation for the onslaught of "Will The Beatles get back together?" questions, composes an Muhammad Ali type rhyme:
The Beatles split in '69,
And since then they have been doing fine,
And if that question doesn't cease,
Ain't no one gonna get no peace.
And if they ask it just once more,
I think I'll have to bash them on their jaw.

1981--John Lennon's single Imagine hits #1 in the UK charts. This is not a reissue, for the single has been in continuous release in the UK since October 24, 1975 (it was released in the US on Oct. 11, 1971). Happy Xmas (War Is Over) is at #2, while Give Peace A Chance reaches #33.

1981--John and Yoko's LP Double Fantasy goes platinum, and it will sit at #1 in the charts for eight weeks.

1981--John Lennon's single (Just Like) Starting Over is #1 in the US charts for the third straight week.

1983--UK re-release of The Beatles' single Please Please Me / Ask Me Why (Parlophone). 20th anniversary reissue. Issued as a regular single and also as a picture disc.

1990--Time Inc. aquires Warner Communications for $14.1 billion. Thus begins Time Warner, one of the world's largest media and entertainment conglomerates.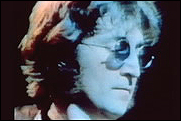 1993--John Lennon and Yoko Ono's "Live In New York City" home video, featuring footage from the August 30, 1972 "One To One" concert afternoon rehearsals, is transmitted on the oldies satellite station UK Gold.

1997--James Brown receives a star on the Hollywood Walk of Fame.

2000--America Online, "the company that brought the Internet to the masses," announces that it has agreed to buy Time Warner, the largest traditional media company in the US, for $165 billion.

For more day-by-day history go to HistoryUnlimited.net