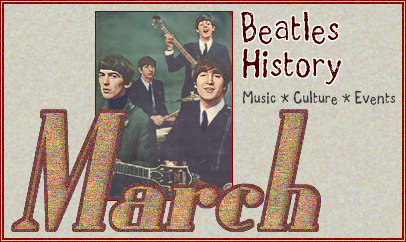 History offers
a chance
to truly
understand
how the past
impacts the now.


Follow our
daily timelime
of historical
events to
discover the
role The Beatles
played in changing
the modern world.
THE FOLLOWING EVENTS TOOK PLACE ON MARCH 30
1814--Great Britain and her allies march into Paris after defeating Napoleon.

1945--Eric Clapton (guitarist and vocalist with Cream, Derek and the Dominoes, Bluesbreakers, Blind Faith, and The Yarbirds) is born Eric Clapp in Ripley, England.

1953--Einstein announces a revised Unified Field Theory.

1960--Representative Thomas O'Neill (of Massachusetts) wants the Federal Communications Commission to investigate all radio station employees involved in payola and report them to Congress.

1962--The Beatles perform at the Cavern Club twice -- at lunchtime and at night.

1963--The Beatles, on the Chris Montez / Tommy Roe tour, perform at the Guildhall in Portsmouth, Hampshire.

1965--The Beatles in the recording studio (Studio Two, EMI Studios, London). After a day of filming for the movie "Help!" at Twickenham Studios, the Beatles try unsuccessfully (for the second time) to record That Means a Lot (five additional takes); later they record overdubs for You're Gonna Lose That Girl, but the overdubs are never used. [Note: The title of the song You're Gonna Lose That Girl has been changed to You're Going to Lose That Girl on re-releases.]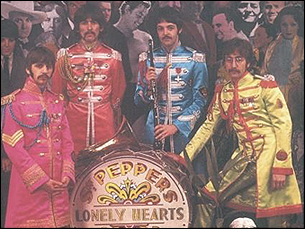 1967--The Beatles meet at Chelsea Manor Studios (photographic studio) and dress in uniforms for the photographing of the Sgt. Pepper's Lonely Hearts Club Band album cover. Photographer: Michael Cooper. Album designer: Peter Blake.

1967--The Beatles in the recording studio (Studio Two, EMI Studios, London). After the photo shoot for the "Sgt. Pepper" album cover, The Beatles resume work on With a Little Help From My Friends (originally titled "Bad Finger Boogie"). Guitars, bass, tambourine, and backing vocals are recorded, completing the track The session begins at 11:00 pm and ends at 7:30 a.m.

1968--A promotional film for Lady Madonna is broadcast in color on US television, on the program "The Hollywood Palace." The video portion of the film clip was shot while The Beatles were performing the song Hey Bulldog, but the Lady Madonna audio track was paired with the video for the promo release. It won't be until 1999 that the video is broadcast with its original Hey Bulldog soundtrack.

1968--The Beatles' single, Lady Madonna, reaches #1 in the UK charts.

1969--Day 6 of John and Yoko's "Amsterdam Bed-In For Peace." As requested by John, The Buffoons visit the Lennons at the Hilton.

1970--John Lennon and Yoko Ono are in attendance at The Rolling Stones' farewell party (held at the Skindles nightclub in Maidenhead, Berkshire), before the group leave to become tax exiles in the South of France.



1973--The US military role in Vietnam comes to a formal end, when the last US prisoner is released and the last soldier is withdrawn from action.

1981--Elm Tree Books publishes "Shout!: The True Story of The Beatles," the result of three years of research by journalist Philip Norman. It is promoted as the definitive biography of the group and is serialized in the Sunday Times. Paul McCartney will later refer to the book as "shite," due to what he felt was an unflattering portrayal of him within its pages. The book has long been considered one of the best ever written on The Beatles.

1998--Rolls-Royce is purchased by German automaker BMW in a $570 million deal.

For more day-by-day history go to HistoryUnlimited.net