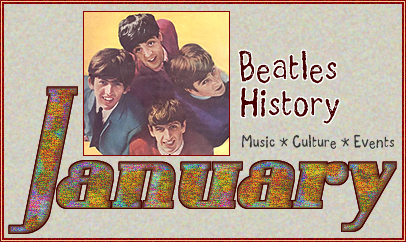 History offers
a chance
to truly
understand
how the past
impacts the now.


Follow our
daily timelime
of historical
events to
discover the
role The Beatles
played in changing
the modern world.
THE FOLLOWING EVENTS TOOK PLACE ON JANUARY 31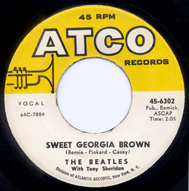 1932--Rick Hall, owner and founder of the legendary Muscle Shoals Studios in Alabama, is born.

1962--The Beatles perform at the Cavern Club -- a night performance.

1963--The Beatles perform a lunchtime show at the Cavern Club, followed by a night show at the Majestic Ballroom, Birkenhead. The demand for tickets at the Majestic was so high that The Beatles perform two separate shows for two houses, which is quite unusual for a ballroom appearance.

1964--UK release of Tony Sheridan / The Beatles single Sweet Georgia Brown / Nobody's Child (Polydor).

1964--The Beatles perform two shows at the Olympia Theatre in Paris, France.

1964--Sales figures show that The Beatles' She Loves You has sold 1.3 million copies in England, while I Want to Hold Your Hand has sold 1.5 million.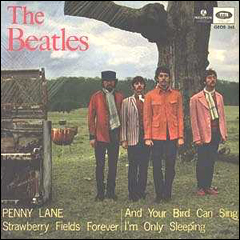 1967--The Beatles are back at Knole Park, Sevenoaks, Kent, to complete filming for the Strawberry Fields Forever promotional video. One of the scenes shot on this day has Paul McCartney dropping down from a high branch in the dead tree and running backwards to a piano. In the final video, this segment is played in reverse, making it appear as if Paul is jumping up into the tree; this time The Beatles utilize backwards film in addition to their experiments with backwards tapes.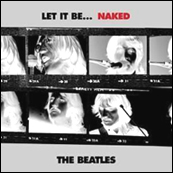 1969--The completion of filming and recording for the "Get Back" project. In Apple Studios, London, The Beatles and Billy Preston set up in stage formation and perform / film / record Two of Us, The Long and Winding Road, and Let It Be (nine takes). This has been called the "Apple Studio Performance." Ultimately, The Beatles aren't at all happy with the results of the "Get Back" sessions. John Lennon favors putting it out just as it is, so that "It'll tell people, 'This is us with our trousers off, so will you please end the game now?' " But Abbey Road will be recorded and released before the "Get Back" album is issued, with the new title Let It Be. Various attempts are made over the next year to find a satisfactory structure for the hours of film and tape made this month, but it's more than a year before the group is able to agree on a solution. The fact is, the best documented month of The Beatles' career is also their least production and most self-destructive.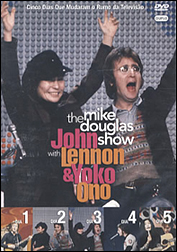 1972--John Lennon and Yoko Ono begin taping five programs as the week's co-hosts on the afternoon talk show "The Mike Douglas Show." The shows are broadcast just two weeks later, between February 14 and 18. Earlier that morning, at a press conference in New York to announce their appearances on the show, Yoko says: "We tried to show that we're working to change the world, not with dollars, but with love. We're not just freaks shouting and screaming about it, but we're thinking in terms of a balanced life, changing it gradually through our daily lifestyle. We're saying to older people, let's work it together, because we have to work it together."

1975--John Lennon pays a visit to Yoko Ono at the Dakota. To friends, he gives the reason for the visit as, "Yoko has a cure for my smoking." Later in the year, John recalls this day: "I was just going over for a visit and it just fell in place again. It was like I'd never left. I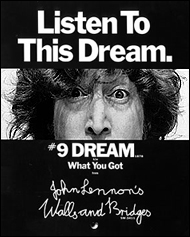 realized that this was where I belonged. I think we both knew we'd get back together again sooner or later, even if it was five years, and that's why we never bothered with divorce. I'm just glad she let me back in again. It was like going out for a drink, and it took me a year to get it!" As John will recall even later in 1980, the reasons behind his return ran a lot deeper. "I really needed to be with her," John freely admits. "I wanted to be with her and could not literally survive without her. As a functioning human being I just went to pieces. I didn't realize I needed her so much. I was haunted alright, because I needed her more than she needed me and I always thought the boot was on the other foot. That's as honest as I can get." John moved back into the Dakota over the coming weekend.

1975--UK release of the John Lennon single #9 Dream / What You Got (Apple).

1975--Today marks the last attempt at a hit single from the Pussy Cats album, with the release of John Lennon's "Spectoresque" arrangement of Save The Last Dance For Me.

For more day-by-day history go to HistoryUnlimited.net