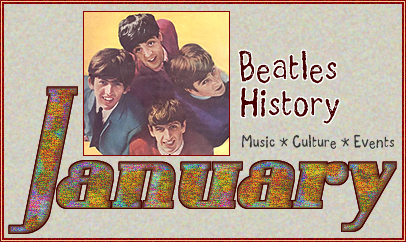 History offers
a chance
to truly
understand
how the past
impacts the now.


Follow our
daily timelime
of historical
events to
discover the
role The Beatles
played in changing
the modern world.
THE FOLLOWING EVENTS TOOK PLACE ON JANUARY 20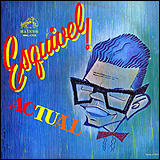 1885--The roller coaster is patented by La Marcus Thompson of Coney Island, New York. His amusement park thrill-ride is 450 feet long with the highest drop being 30 feet.

1918--King of space-age bachelor lounge music, Esquivel, is born Juan Garcia Esquivel in Tampico, Mexico.

1936--King George V of Britain dies. His son succeeds him as Edward VIII, but he will abdicate later that year.

1961--The Beatles perform at Lathom Hall, Seaforth, Liverpool.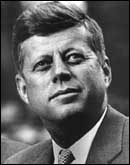 1961--John F. Kennedy is inaugurated as the 35th President of the United States.

1962--The Beatles perform at the Cavern Club -- a night show.

1963--The Beatles perform at the Cavern Club -- a night show.

1964--US release of The Beatles' LP, Meet the Beatles (Capitol). Songs: I Want to Hold Your Hand, I Saw Her Standing There, This Boy, It Won't Be Long, All I've Got to Do, All My Loving, Don't Bother Me, Little Child, Till There Was You, Hold Me Tight, I Wanna Be Your Man, and Not a Second Time. 69 weeks on Billboard chart; highest position #1. This is the first of a remarkable 33 Beatles records released in the US in 1964.

1964--The Beatles perform two shows at the Olympia Theatre in Paris, France. A short interview with The Beatles is broadcast on radio station Europe I at midday.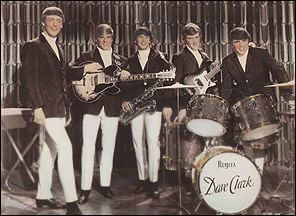 1965--The Rolling Stones and The Kinks make their first appearance on ABC-TV's "Shindig!" Also appearing are The Dave Clark Five, Petula Clark, Bobby Vee, Bobby Sherman, and Gerry and the Pacemakers.

1967--The Beatles in the recording studio (Studio Two, EMI Studios, London). Overdubbing begins for A Day in the Life. John Lennon and Paul McCartney record vocals, Paul adds a bass line, and Ringo adds drums. The alarm clock that was recorded to mark the end of the 'missing section' is a perfect lead-in for the first line of Paul's song fragment that had been spliced into the song ("woke up, fell out of bed"), so the ringing clock is kept on the track. Paul's vocal, intended as a rough guide for a later (Feb. 3) final recording, ends on an expletive when Paul makes a mistake.

1969--The Beatles are scheduled to begin recording sessions for the "Get Back" album at their new Apple Studios. They had entrusted the construction of the studio to their resident electronics wizard, Alex Mardas, better known as "Magic Alex." Alex had promised that The Beatles wouldn't have to work with puny 8-track recording equipment; he would provide 72-track equipment. And they would no longer have to hide Ringo away behind sound baffles to isolate his drums, for Alex was going to install an invisible sonic force-field that would do a much better job. Problem was, "Magic Alex" was a flake. The mixing console was constructed from odd bits of wood and an old oscilloscope, "and it looked not unlike the control panel of a B-52 bomber." The Beatles tried a sample recording and the results were dismal; the tape was useless. The Beatles had to bring in rented equipment, and they lost two days getting the studio in shape for proper recording.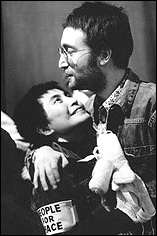 1970--John Lennon and Yoko Ono have most of their hair cut off while in Denmark (in the barn of Anthony Cox's north-Jutland retreat). Their hair will be auctioned off to benefit black activist Michael X's (Abdul Malik) "Black House" in London. At a Black House rally on February 4, Michael X will give John and Yoko a pair of Muhammad Ali's boxing trunks in exchange for their hair. Michael X will be hanged for murder in Trinidad on December 29, 1975.

1971--In Japan, John Lennon meets Yoko Ono's parents for the first time. Yoko's mother, Mrs. Isako Ono, remarks of John: "My husband and I found Lennon very nice and gentle." John and Yoko return to England the following day.

1973--Rock 'n' roller Jerry Lee Lewis performs at the Grand Ole Opry for the first time. The Opry officials ask him to play only country music and refrain from using any obscenities. "The Killer" plays Great Balls of Fire and Whole Lot of Shakin' Going On before exclaiming, "I am the rock 'n' rollin', country and western, rhythm and blues singin' motherf*cker."

1981--In the US, Yoko Ono prepares for distribution of a second version of the Woman promotional film, intended for a special one-time American TV screening.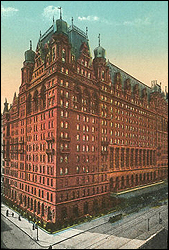 1988--At the Waldorf Astoria Hotel in New York City, The Beatles are inducted into the Rock and Roll Hall of Fame. George Harrison, Ringo Starr, Yoko Ono, and Sean and Julian Lennon attend. Paul McCartney does not attend, sending instead a letter stating that continuing business differences with the other ex-Beatles was the reason for his absence. In his prepared statement he said: "It would have been hypocritical to appear on stage with them, waving and smiling." Yoko slyly tells the press that John would have been here if he were still alive. For his acceptance speech, George says: "I don't have much to say 'cause I'm the quiet Beatle. It's unfortunate Paul's not here 'cos he was the one with the speech in his pocket. We all know why John can't be here. I'm sure he would be. It's hard, really, to stand here supposedly representing The Beatles. But, er...it's all that's left I'm afraid. But we all loved him [John] so much, and we all love Paul so much." Ringo, in typical fashion, brings a sense of humor to the proceedings, by opening with the words: "You can sit down now...I'm gonna be here for hours!" Later, Beach Boy, Mike Love, makes remarks that are highly critical of McCartney (and several other performers). He foolishly says: "The Beach Boys are continuing to do 180 performances a year. I'd like to see the Mop Tops match that!" Inductees into the Hall of Fame this night, besides The Beatles, are The Beach Boys, The Drifters, Leadbelly, Bob Dylan, Les Paul, Woody Guthrie, The Supremes, and Berry Gordy, Jr.

For more day-by-day history go to HistoryUnlimited.net