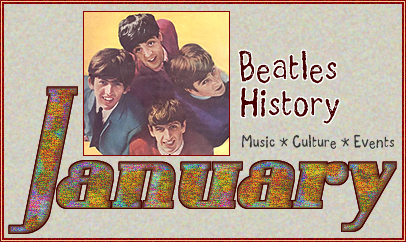 History offers
a chance
to truly
understand
how the past
impacts the now.


Follow our
daily timelime
of historical
events to
discover the
role The Beatles
played in changing
the modern world.
THE FOLLOWING EVENTS TOOK PLACE ON JANUARY 19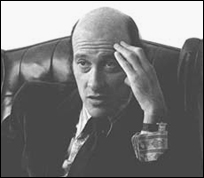 1932--Richard Lester, the director of "A Hard Day's Night," "Help!" and "How I Won the War," is born in Philadelphia.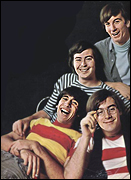 1939--Phil Everly, of The Everly Brothers, is born in Brownie, Kentucky.

1943--Janis Joplin is born at St. Mary's Hospital in Port Arthur, Texas.

1943--Joe Butler, drummer for The Lovin' Spoonful, is born.

1944--Zalman Yanovsky, of The Lovin' Spoonful, is born in Toronto, Canada.

1961--The Beatles perform at Alexandra Hall, Crosby, Liverpool.

1962--The Beatles perform at the Cavern Club at lunchtime. That night they play at the Tower Ballroom in New Brighton, Wallasey.

1963--The Beatles perform at Town Hall Ballroom, Dodington, Whitchurch, Shropshire.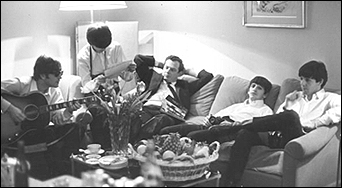 1964--The Beatles perform three shows at the Olympia Theatre in Paris, France. A portion of one of the shows is broadcast by French radio station Europe 1, for its program "Musicorama," and includes Beatles songs From Me to You, This Boy, I Want to Hold Your Hand, She Loves You, and Twist and Shout.

1966--Indira Gandhi is elected prime minister of India in succession to Lal Shastri, who died on January 11. Shastri had succeeded Gandhi's father, Jawaharlal Nehru.

1967--The Beatles in the recording studio (Studio Two, EMI Studios, London). The Beatles begin recording A Day in the Life. They record four takes, but there is a missing middle section that they aren't sure what to do with, so they mark out the place and timing where the missing segment will go by having Mal Evans count out the bars, one through 24, his voice heavily echoed and backed by a tinkling piano, and with an alarm clock ringing to flag the end of the 'missing' section.

1968--UK release of Grapefruit's Dear Delilah, which was produced by John Lennon and Paul McCartney.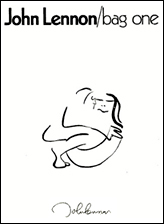 1970--"Bag One" lithograph sales skyrocket following the police raid in which a number of John Lennon's lithographs were confiscated by Scotland Yard for being potentially pornographic. Three hundred sets of the lithographs are available for sale, at a cost of £550 ($770) per set.

1970--The soundtrack of the film, "Easy Rider," the movie that made a star of Peter Fonda, receives a gold record. It is the first pop-culture, film soundtrack to earn the gold award.

1971--The Beatles & Company partnership case opens in the Chancery Division of the London High Court in front of Judge Justice Stamp. It is mutually agreed that the evidence is to be completed within a month, and a date for the full hearing is to be fixed as soon as possible after that.

1971--While John Lennon is visiting Japan, he gets his first calls from a solicitor in London who is trying to track him down regarding Paul McCartney's High Court actions. He does his best to avoid them, but soon faces the inevitable. Says John: "I got to Japan and I didn't tell anybody I'd arrived. Then suddednly I got these calls from the lawyer. Fucking idiot! I didn't like his upper class Irish-English voice as soon as I heard it. He insisted that I come home. I could have done it all on the fucking phone!" John and Yoko had no choice but to return home to England on January 21.

1971--Bob Dylan's hour-long phone interview with A.J. Weberman turns nasty and is later released as Bob Dylan vs. A.J. Weberman (Folkways). Weberman was one of the first self-styled "Dylanologists," and pioneered the art of poring through a celebrity's trash in order to glean information about them.

1973--The ex-Beatles turn down promoter Bill Sargent's offer of $30 million for the most famous band in the world to reunite for one concert.



1984--US release of John Lennon / Yoko Ono LP and CD Milk and Honey (Polydor / PolyGram). Songs: I'm Stepping Out, I Don't Wanna Face It, Nobody Told Me, Borrowed Time, (Forgive Me) My Little Flower Princess, and Grow Old With Me [all Lennon], and the following Yoko songs: Sleepless Night, Don't Be Scared, O'Sanity, Your Hands, Let Me Count the Ways, and You're the One. All songs were recorded during the Double Fantasy sessions. The original sleeve was to have featured over 200 heart-shaped photographs of the couple. Instead, an alternate color photo from the Double Fantasy photo session was used.

1986--An intruder lowers himself from the roof of the Dakota building and enters Yoko Ono's apartment through an open window. He leaves several notes, a photograph, and a letter to Yoko, who was sleeping at the time. He is later arrested by New York City police.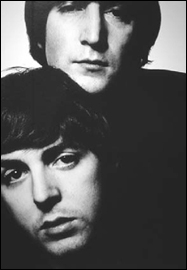 1994--At the Waldorf Astoria in New York City, Paul McCartney makes an emotional and touching induction speech for John Lennon's entrance into the Rock and Roll Hall of Fame, as a solo artist (having been previously inducted as a member of The Beatles). Only Clyde McPhatter (of The Drifters) had been previously inducted for both solo and group careers. The Animals, The Band, Duane Eddy, The Grateful Dead, Elton John, Bob Marley, and Rod Stewart are also inducted. Yoko Ono accepts on behalf of John. Later, Paul and Yoko hold a press conference, announcing that the surviving Beatles will record a song using a demo tape of John's for a planned project to be called "Anthology." The songs on the tape are Free As A Bird (from 1977), Real Love (a version previously released in 1988 as Girls and Boys on the soundtrack album Imagine: John Lennon), Grow Old With Me (a version previously released on the 1984 album Milk and Honey), and Now and Then (from 1980, which is often referred to as Miss You or I Don't Want To Lose You.) When Paul returns to England, he gives the audio cassettes to Jeff Lynne, who spends a week in his private studio working on cleaning them up. He then transfers John's original mono cassettes into analog 48-track form.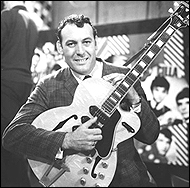 1998--Legendary rockabilly pioneer, Carl Perkins, dies in Nashville from complications following a recent series of strokes. He had been fighting throat and tonsil cancer for most of this decade. George Harrison attends the funeral, held in America at the Lambuth University in Jackson on January 23, where he briefly performs, as a tribute, the Perkins' song Your True Love. Paul McCartney sent a video message to be played at the service, in which he expresses his affection and respect for Carl. Jerry Lee Lewis is also present at the funeral. Perkins' songwriting and guitar work influenced Elvis Presley and The Beatles, to name but two. He wrote and recorded Blue Suede Shoes in 1956, and his version sold two million copies before Elvis' version became a hit. In 1987, Perkins was inducted into the Rock and Roll Hall of Fame.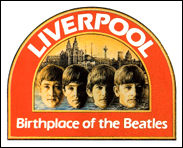 2000--The British Department of the Environment, Transport, and the Regions rejects a request from the Liverpool City Council that the city be permitted to erect road signs promoting Liverpool as the home of The Beatles. The reason given for the disapproval is that such signs would be a hazard for motorists. Liverpool had planned to put up brown and white signs reading "Liverpool: Birthplace of The Beatles" on the M6 motorway. But the department ruled that the signs were to include information about other tourist attractions in the city and that "drivers have just four seconds to assimilate information [from signs]. There is a limit on the number of words allowed. It comes down to safety grounds...it was too distracting." One Liverpool councillor wondered why such signs are allowed for Stratford-upon-Avon, home of William Shakespeare. The Liverpool City Council plans to protest the decision to the Culture Minister.

For more day-by-day history go to HistoryUnlimited.net