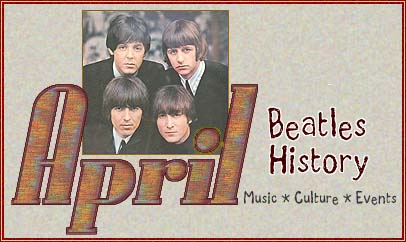 History offers
a chance
to truly
understand
how the past
impacts the now.


Follow our
daily timelime
of historical
events to
discover the
role The Beatles
played in changing
the modern world.
THE FOLLOWING EVENTS TOOK PLACE ON APRIL 8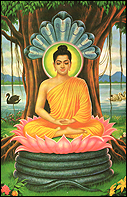 BC 563--Buddha, the Enlightened One, originally known as Siddhartha Gautama, is born on this day. He received Perfect Enlightenment at the age of 35.

1460--Ponce de León is born in San Tervas de Campos, Spain. The Spanish conqueror-explorer, searched for the Fountain of Youth and found what is now the state of Florida.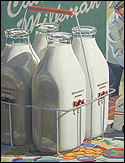 1879--Milk is sold in glass bottles for the first time.

1961--The Beatles perform at the Top Ten Club, Reeperbahn, Hamburg, West Germany.

1962--The Beatles perform at the Casbah Coffee Club, Liverpool. This is their last performance before leaving for their third extended engagement in Hamburg, West Germany. George Harrison, who is ill, does not perform with the group. Brian Epstein, wanting him to be well when The Beatles leave for Hamburg, would not allow George to perform.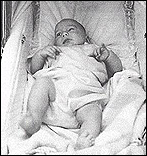 1963--John Lennon's first son, John Charles Julian Lennon, is born to Cynthia Lennon at Sefton General Hospital in Liverpool. John is in London during the birth with the rest of The Beatles. Cynthia must deal not only with the fact that John was not with her for the birth, but that she must keep her marriage to him a secret in order not to hurt the popularity of the group. John eventually sneaks into the hospital in disguise to see Cyn and his newborn son on April 10. Julian is the first child born to any of The Beatles.

1965--The Beatles continue filming at Twickenham Film Studios for their movie "Help!" Ringo Starr shoots a solo segment, in a bathroom, that will be cut from the final film. Then all four Beatles film the "washroom" scene, where a hand-drying machine is rigged for super-suction, ripping off George Harrison's shirt and pulling a sink off of the wall.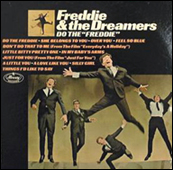 1965--No. 1 Billboard Pop Hit: I'm Telling You Now, by Freddie and the Dreamers.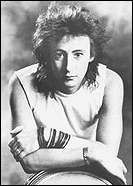 1966--The Beatles in the recording studio (Studio Two, EMI Studios, London). Recording three more takes of Got to Get You Into My Life, finally perfecting the rhythm track, with overdubs of vocals, additional guitar, and brass instruments to be added later.

1967--Sandie Shaw wins the Eurovision Song Contest for Britain with Puppet on a String.

1985--Julian Lennon makes his first live concert appearance. It is the first of three nights at the Beacon Theater in New York City.

For more day-by-day history go to HistoryUnlimited.net