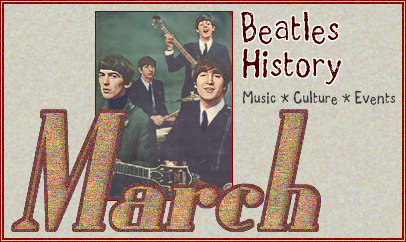 History offers
a chance
to truly
understand
how the past
impacts the now.


Follow our
daily timelime
of historical
events to
discover the
role The Beatles
played in changing
the modern world.
THE FOLLOWING EVENTS TOOK PLACE ON MARCH 3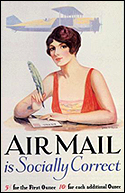 1845--US Congress authorizes ocean mail contracts for foreign mail delivery.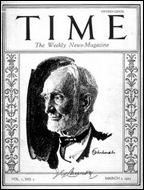 1923--Time magazine publishes its first issue.

1931--The Star-Spangled Banner, written by Francis Scott Key, officially becomes the national anthem of the United States.

1955--Elvis Presley makes his first television appearance.

1961--The Beatles perform at St. John's Hall, Bootle.

1962--The Beatles perform at the Cavern Club -- a night show.

1963--The Beatles perform at the Gaumont Cinema, Hanley, Staffordshire, on the final night of the Helen Shapiro tour. Having started the tour as the opening act at the bottom of the bill, The Beatles have worked their way up to closing the first-half of each show.

1964--Filming for The Beatles' first movie, "A Hard Day's Night," aboard a train headed to Minehead and back.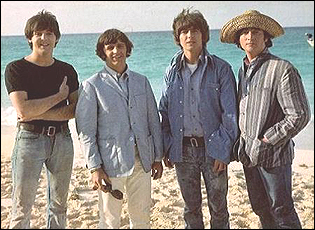 1965--The Beatles continue the filming of "Help!" in the Bahamas. This day the film's final sequence is shot (Ringo staked out on the beach, painted red; the ring flies off of his hand).

1967--The Beatles in the recording studio (Studio Two, EMI Studios, London). Working on the song Sgt. Pepper's Lonely Hearts Club Band. Four french horn players (James Buck, Neil Sanders, Tony Randall, and John Burden) are brought into the studio to record overdubs. John Lennon (as he had done with musicians brought in to play on Penny Lane) secretly records the musicians' conversation for his personal tape archive (which he was compiling for use in his experimental works). Later in the session, George Harrison overdubs a distorted lead guitar solo.

1971--The South African Broadcasting Corporation lifts its ban on The Beatles music. The ban had been in effect since August 8, 1966, in response to the John Lennon "Beatles bigger than Jesus" controversy. However, the lifting of the ban does not extend to John Lennon's compositions, vocals, or solo work, which remain banned.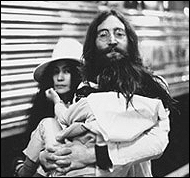 1972--Although Yoko Ono had been granted custody of her daughter Kyoko, the girl's father, Anthony Cox, flees with her, making John Lennon all the more determined to stay in the USA.

1972--Harry Nilsson receives a gold record for Nilsson Schmilsson, the best selling album of his career. The LP contains three hits: Without You, Jump Into the Fire, and Coconut.

1973--George Harrison's album, The Concert for Bangladesh, is awarded the Grammy for 1972 "Album of the Year."

1980--The auction house Sotheby Park-Bernet in London auctions off four American dollar bills signed by The Beatles for £220 ($308), a bargain by today's values.

For more day-by-day history go to HistoryUnlimited.net