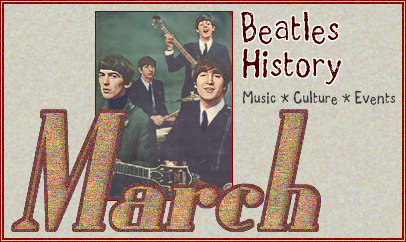 History offers
a chance
to truly
understand
how the past
impacts the now.


Follow our
daily timelime
of historical
events to
discover the
role The Beatles
played in changing
the modern world.
THE FOLLOWING EVENTS TOOK PLACE ON MARCH 12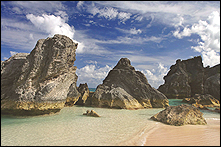 1609--Bermuda becomes an English colony.

1789--The United State Post Office is established.

1904--The first main line electric train begins operation in the UK (Liverpool to Southport).

1912--The Girl Scouts of America organization is founded by Juliette Gordon Low of Savannah, Georgia.

1922--Jack Kerouac (author of "On the Road," and "The Dharma Bums" and one of the biggest influences of the Beat Generation) is born.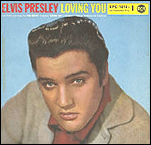 1930--Indian political and spiritual leader Mohandas K. Gandhi begins a 200-mile march to protest a British tax on salt.

1955--The Dave Brubeck Quartet appears for the first time at Carnegie Hall in New York City. Joining with Brubeck, in what would become one of the most popular concert draws on college campuses, were names that would become legends in their own right, including Paul Desmond on alto sax, Joe Morello on drums, and Eugene Wright on bass. Despite his illustrious and lengthy career in jazz, spanning several decades, Brubeck is probably most well known for the huge 1960s hit, Take Five.

1956--RCA Records issues the first album and extended play releases by Elvis Presley.

1958--The Recording Industry Association of America introduces its awards for record sales, (RIAA). The Beatles hold the record to this day for the most awards, with 76 platinum certifications.

1961--The Beatles perform at the Casbah Coffee Club, West Derby, Liverpool, and at the Cassanova Club, Liverpool.



1962--The Beatles perform at the Kingsway Club, Southport.

1963--The Beatles, touring with Chris Montez and Tommy Roe, perform at the Granada Cinema in Bedford. John Lennon, suffering from a heavy cold, is unable to perform, and The Beatles' repertoire has to be rearranged so that George Harrison and Paul McCartney can sing the parts that John usually sings. Says John: "It's quite a strain, singing numbers like Twist and Shout night after night. I lose my voice for days on end sometimes. Thankfully, it doesn't affect our act. We've got such a big repertoire of songs, we just arrange it that the others fill in."



1964--Shooting continues at Twickenham Studios for The Beatles' first movie, "A Hard Day's Night." Shooting the "hotel sequences" with movie road managers "Norm" (Norman Rossington) and "Shake" (John Junkin).

1965--The Beatles wrap up their location shooting of "Help!" in the Bahamas. And in an interview with The New York Times, Beatles manager, Brian Epstein, predicts that the band will still be popular in 10 years and declares The Rolling Stones "a fine group."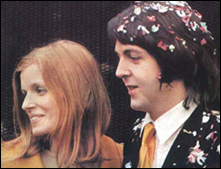 1969--Paul McCartney marries Linda Eastman at Marylebone Register Office. Paul's brother Mike is best man, Mal Evans is a witness, and Linda's daughter, Heather, is flower girl. Magistrate E.R. Sanders performs the ceremony, which is followed by a luncheon at the Ritz Hotel. None of the other Beatles or family members are in attendance (they weren't invited). A throng of crying female fans waited outside for the newlywed couple to make their way to their car. (The fact that Paul was no longer a bachelor was not well-received at the time.)

1969--George and Pattie Harrison are arrested and charged with possession of cannabis after a raid on their home. The raid is timed to coincide with Paul McCartney's wedding. George claims that some of the 'evidence' was planted by the police. George and Pattie are released on bail on March 18, with their trial set for March 31.

1969--John and Yoko go to Studio Three, EMI Studios, London, to listen to the playback of a recording of Peace Song. [Allen Wiener reports that John and Yoko recorded the song on this date, but Mark Lewisohn says that they only listened to playbacks.]

1971--UK release of the John Lennon / Plastic Ono Band single, Power to the People / Open Your Box (Apple). The flip side is a Yoko Ono song that was later retitled "Hirake." 6 weeks on the charts; highest position #6.

1971--A court ruling grants Paul McCartney's request that a receiver be appointed to control the finances of The Beatles & Company. James Douglas Spooner is appointed to that role.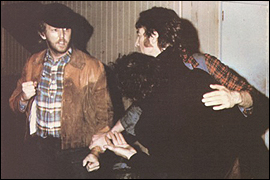 1974--John Lennon and Harry Nilsson are ejected from the Troubadour Club in Los Angeles for causing a disturbance during The Smothers Brothers' act. Out of their minds on Brandy Alexanders, Lennon and Nilsson get a little too rowdy for the management's taste. The Smothers Brothers said that they were partly responsible, having talked to the drunken Lennon from the stage; they also accused the newspapers of blowing the incident all out of proportion, even though there are photos that clearly show John lashing out at those who are escorting him off the premises. Lennon and Nilsson sent flowers and apologies to The Smothers Brothers the next day. A club waitress claimed that Lennon assaulted her, but that charge would be dismissed. Says Tommy Smothers: "It was a big Hollywood opening. During our first set, I heard someone yelling about pigs...it was fairly disgusting. I couldn't figure out who it was. But I knew Harry and John were there. The heckling got so bad that our show was going downhill rapidly. No one cared, because it was just a happening anyway, but there was a scuffle going on and we stopped the show. Flowers came the next day apologizing. My wife ended up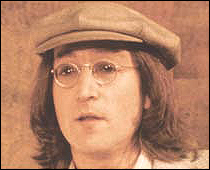 with Lennon's glasses because of the punches that were thrown. Then he went outside because he was still angry and kicked the car parker." Says John: "I got drunk and shouted...it was my first night on Brandy Alexanders, that's brandy and milk, folks. I was with Harry Nilsson, who didn't get as much coverage as me...the bum. He encouraged me. I usually have someone there who says 'okay Lennon, shut up.' There was some girl who claimed that I hit her, but I didn't hit her at all, you know. She just wanted some money and I had to pay her off, because I thought it would harm my immigration. So I was drunk...when it's Errol Flynn, the showbiz writers say 'those were the days, when men were men.' When I do it, I'm a bum. So it was a mistake, but hell, I'm human. I was drunk in Liverpool and I smashed up phone boxes, but it didn't get into the papers then."

People send Avas Flowers for a variety of reasons, but there has probably never been an Avas Flowers bouquet sent after a scuffle at a club!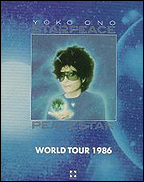 1984--UK re-release of John Lennon single Give Peace a Chance / Cold Turkey (EMI Golden 45's). Both sides were previously released as the A-sides of separate singles.

1986--Yoko Ono's world tour makes a stop in Hamburg, West Germany.

1996--Nancy Sinatra donates her white go-go boots to the Hard Rock Cafe in Beverly Hills, California.

1999--A private funeral for Dusty Springfield, who died earlier in the week of breast cancer, is held at St. Mary's Church in Henley-on-Thames, England. Complying with the singer's wishes, there are no memorials in London, New York, or Los Angeles.

1999--Violinist and conductor Lord Yehudi Menuhin dies at age 83. Menuhin began his recording career in 1928, with Victor in the US. A year later, he moved to Europe and signed with HMV, then with EMI, where he made more than 300 recordings, and where his nearly 70-year deal is the longest in music history.

For more day-by-day history go to HistoryUnlimited.net