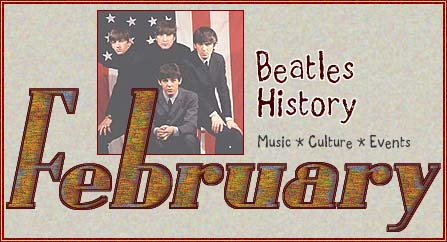 History offers
a chance
to truly
understand
how the past
impacts the now.


Follow our
daily timelime
of historical
events to
discover the
role The Beatles
played in changing
the modern world.
THE FOLLOWING EVENTS TOOK PLACE ON FEBRUARY 18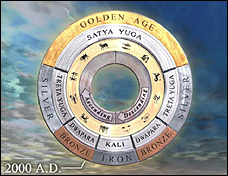 BC 3102--Origin of the Kali Era (the Kali Yuga) in India.

1516--Mary I Tudor (Bloody Mary), first reigning Queen of Great Britain, is born in Greenwich, England.

1745--Count Alessandro Giuseppe Antonio Anastasio Volta, inventor of the battery, is born.

1896--André Breton, founder of Surrealism, is born in France.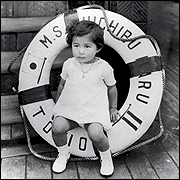 1922--Helen Gurley Brown, publisher of Cosmopolitan magazine, is born in Portland, Maine.

1933--Yoko Ono, avant-garde artist and second wife of John Lennon, is born in Tokyo, Japan.

1953--Lucille Ball and Desi Arnaz sign a contract worth $8 million to continue the "I Love Lucy" TV show through 1955. The deal is the biggest in television history.

1961--The Beatles perform at Aintree Institute, Aintree, Liverpool.

1962--The Beatles perform at the Casbah Coffee Club, West Derby.

1963--The Beatles perform two shows for two separate houses at Queen's Hall, Widnes. Both shows are sell-outs.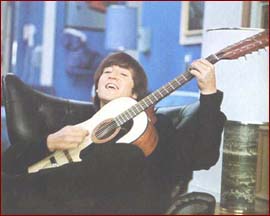 1964--While in Miami for a concert, The Beatles meet up with Cassius Clay, who is training in the city for an upcoming bout with Sonny Liston. It presents a perfect photo op for both parties, although John Lennon complains bitterly about being made a fool by having to pose with the boxer.

1965--The Beatles in the recording studio (Studio Two, EMI Studios, London). Recording You've Got to Hide Your Love Away (9 takes). Flautist Johnnie Scott is called in to record tenor flute and alto flute parts for John Lennon's song. Paul McCartney's Tell Me What You See is completed in four takes. The Beatles also record one take of a song intended as Ringo Starr's vocal contribution for the next album, the Lennon-McCartney song If You've Got Trouble. A few overdubs were recorded to the track, but it was judged a failure and shelved indefinitely. The Beatles Anthology 2 includes You've Got to Hide Your Love Away before the flute overdub (Disc one, Track 4). Also on The Beatles Anthology 2 is the previously-unreleased If You've Got Trouble (Disc one, Track 5).

1967--Robert J. Oppenheimer, creator of the atomic bomb, dies at age 62.

1968--The British adopt year-round Daylight Savings Time.

1969--Bee Gee, Maurice Gibb, marries Scottish singer Lulu at St. James' Church in Gerrard's Cross, England. The ceremony brings out 3,000 onlookers.

1970--John Lennon holds a birthday party for Yoko Ono at the Apple Records offices in London. Yoko is 37.

1970--Ringo Starr in the recording studio (Studio Two, EMI Studios, London). Recording (unreleased) takes of It Don't Come Easy. George Martin is producer and the musicians playing with Ringo (drums, vocal) are George Harrison (acoustic guitar), Klaus Voorman (bass), and Stephen Stills (piano).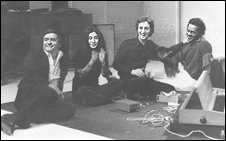 1972--This is the last day of guest-hosting "The Mike Douglas Show" for John Lennon and Yoko Ono. Yoko concludes her china cup construction ("Mend Piece") which began on the first show. John and Yoko then participate in a segment where they take questions from the audience. They sing Luck of the Irish, with John on acoustic guitar. The last clip from the "Imagine" film is the song How. Guests on this final show are George Carlin,

biofeedback expert Dr. Gary E. Schwartz, and New York appeals attorney, Rena Uviller. The show concludes with Yoko singing a Japanese folk song, then Douglas sings a "thanks to John and Yoko" ditty, while still photos from the week's shows fill the screen. (This show was taped on February 7, 1972.) [Note: for several years after their original broadcast, the five 73-minute shows languished, untouched, in a film and video archive in Pennsylvania. Yoko rescued them for clips to be inserted into her 1984 Milk and Honey videos. Edited versions of the shows appeared on VH1 in the late 1990s. All five shows appeared officially in America on home video on May 19, 1998, when Rhino had the good sense to release them to the public.]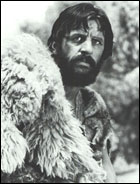 1972--The California Supreme Court declares the death penalty cruel and unusual punishment in violation of the state constitution. One hundred and seven inmates were taken off death row (among those spared by the ruling was Charles Manson).

1974--John Lennon and May Pang pay a twenty-minute visit to Yoko Ono at the Dakota for her 41st birthday.

1980--Ringo Starr begins filming the movie "Caveman."

1980--Bill Wyman says he will leave The Rolling Stones in 1983.

For more day-by-day history go to HistoryUnlimited.net