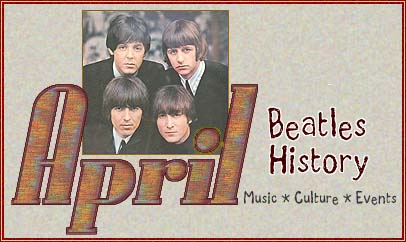 History offers
a chance
to truly
understand
how the past
impacts the now.


Follow our
daily timelime
of historical
events to
discover the
role The Beatles
played in changing
the modern world.
THE FOLLOWING EVENTS TOOK PLACE ON APRIL 23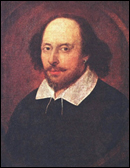 33--Christian tradition says that Jesus Christ, crucified three days earlier, is raised from the dead: marking this date as the very first Easter. (The next time Easter fell on April 23 was in the year 2000.)

1348--The first English order of knighthood is founded.

1564--William Shakespeare is born. "Be not afraid of greatness: some are born great, some achieve greatness, and some have greatness thrust upon them." From Act II, Scene V of "Twelfth Night" by William Shakespeare.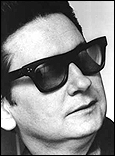 1616--William Shakesphere dies on his 52nd birthday. "To be or not to be" was the question, and the when it was time "not to be" seems to be a cosmic joke orchestrated by the great bard.

1896--The Vitascope system for projecting movies onto a screen is demonstrated in New York City.

1936--Rock and roll pioneer Roy Orbison is born in Vernon, Texas. His writing and performing in the 1950s helped create a mass market for rock and roll music. Roy attended North Texas State with Pat Boone. By 1957, he left Texas to work with Sam Phillips at Sun Records, but his biggest success came after switching to Nashville's Monument label. By 1963, he scored eight Top 10 hits and toured with The Beatles in Europe. He was inducted into the Rock and Roll Hall of Fame in 1987, and died of a sudden heart attack on December 6, 1988, in Madison, Tennessee, just as he was making a major comeback.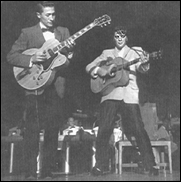 1956--Elvis Presley, accompanied by Bill Black and Scotty Moore, makes his Las Vegas debut at the New Frontier Hotel, where he is the opening act for the Freddie Martin Orchestra and comedian Shecky Greene. The two-week run is called off after only one week due to poor attendance. Presley won't play Las Vegas again for almost 13 years.

1960--John Lennon and Paul McCartney perform, using the name "The Nerk Twins," at The Fox and Hounds pub in Caversham, Berkshire. John and Paul are staying with Paul's cousin during the Easter holidays. As a reward for their working in the pub during the week, Paul's cousin let John and Paul perform live on Saturday night and on Sunday at lunchtime. How their performances were regarded by the audience is a matter lost to history, as stories about "The Nerk Twins" experience have not been widely circulated.

1961--The Beatles perform at the Top Ten Club, Reeperbahn, Hamburg, West Germany.

1962--US release of the single My Bonnie / The Saints (Decca), credited to Tony Sheridan and the Beat Brothers. No chart action.

1962--The Beatles perform at the Star-Club, Hamburg, West Germany.

1962--The Beatles in the studio somewhere in Hamburg, backing Tony Sheridan for producer Bert Kaempfert. The exact date of this session is unknown, although it is known to have been between April 23 and April 27. Two songs were recorded, Sweet Georgia Brown and (probably) Swanee River.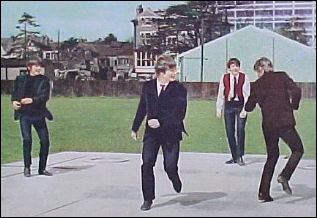 1963--The Beatles perform at the Floral Ballroom in Southport.

1964--A notable day of filming for "A Hard Day's Night." Filming at Thornbury Playing Fields, Isleworth, Middlesex, for the Can't Buy Me Love segment. This footage is intermixed with the March 13 footage taken at Gatwick Airport South. The Beatles run about, jumping and skipping and rolling on the ground. John, Paul, and George are also filmed jumping off a ladder, filmed by a cameraman laying on the ground, to give the impression of high-altitude, high-spirited leaping. Ringo is filmed as if he is about to execute a gargantuan leap, then gives a mini-jump...an unexpectedly clever bit. John Lennon had to leave early to attend a literary luncheon being held in his honor at the Dorchester Hotel. That's why only Paul, George, and Ringo are seen at the very end of the segment, when a groundsman shouts, "I suppose you know this is private property," and George retorts, "Sorry we hurt your field, mister."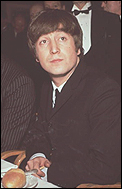 1964--John Lennon attends Foyle's Literary Luncheon at the Dorchester Hotel in London to receive the Literary Prize for "In His Own Write." His entire acceptance speech is, "Thank you very much, and God bless you." He did not say, "You've got a lucky face," which is something he actually said five days later during the taping of "Around the Beatles." The audience, which had been looking forward to a more substantial speech is disappointed, so Brian Epstein steps in to give additional comments. Lennon's sharp tongue comes into play, though, when a social matron demands autographs from John, telling her companion, "I never thought I would stoop to asking for such an autograph." Lennon snorted back, "And I never thought I would be forced to sign my name for someone like you."

1965--Filming at Twickenham Film Studios for the movie "Help!" Completion of the unused "drama-school" sequence, begun the previous day.

1966--The New York Herald-Tribune, which was started by Horace Greeley as the New York Tribune in 1841, ceases publication.

1970--The Lennons fly to Los Angeles on the same flight as George and Pattie Harrison, ready for their Primal Scream therapy treatments at Arthur Janov's Primal Institute. For the entire summer, John and Yoko undergo intensive therapy sessions with the Janovs.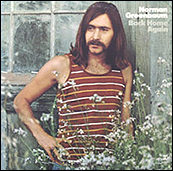 1970--Norman Greenbaum's hit single, Spirit in the Sky, goes gold.

1971--In Majorca, John Lennon and Yoko Ono are taken into police custody and questioned about their alleged abduction of Yoko's daughter, Kyoko, from Anthony Cox, Kyoko's father. Yoko had been awarded custody of Kyoko when she and Cox were divorced. Cox had filed a report with police after Kyoko's disappearance from a playground. Ironically, Cox had been attending a meditation session by the guru Maharishi Mahesh Yogi at the Cala Murada, the Majorca home of the Maharishi for the last eighteen months. John and Yoko had taken the child to look after her at their hotel, the Melia in Madrid.

1975--Peter Ham, guitarist and songwriter for Badfinger, hangs himself in his London garage. He was reported to be deeply depressed by financial problems the group was having. He was 27 years old.

1977--In tonight's edition of "Saturday Night Live," character Ron Nasty (played by Neil Innes, wonderfully imitating John Lennon, circa 1969), who is now living in seclusion in New York, is invited out of retirement to join in a "Save Britain Telethon." Throughout the show, viewers are jokingly asked to pledge money to "keep Britain afloat," a cause that inspired Nasty to come on the show to perform the song Cheese and Onions. The positive audience response leads to Lorne Michaels funding the full-length Rutles TV special, to be made by Eric Idle and Gary Weiss. And thus, Rutlemania was born.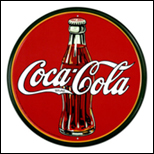 1984--Scientists isolate the virus that leads to AIDS.



1985--The Coca-Cola Company announces that it is changing the 99-year-old secret flavor formula for Coke. This, it turns out later, was a big mistake, as the fans of Coke refused to buy the new product and were thereby instrumental in bringing back the original "Classic Coke."

1995--Sportscaster Howard Cosell dies in New York at age 77.

For more day-by-day history go to HistoryUnlimited.net