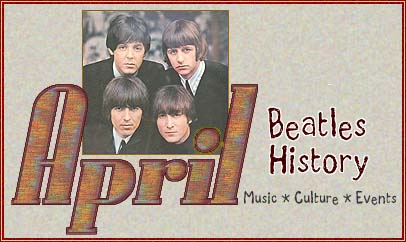 History offers
a chance
to truly
understand
how the past
impacts the now.


Follow our
daily timelime
of historical
events to
discover the
role The Beatles
played in changing
the modern world.
THE FOLLOWING EVENTS TOOK PLACE ON APRIL 17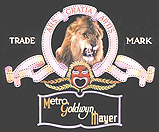 1524--Giovanni Verrazano first catches sight of New York harbor.



1907--11,745 immigrants arrive at Ellis Island, New York.

1924--Metro Pictures, Goldwyn Pictures and the Louis B. Mayer Company merge to form Metro-Goldwyn-Mayer (MGM).

1941--Bill Fury is born in Liverpool, England. Molded by his manager as a British Elvis, Fury, with his suggestive stage presence and raw delivery, was an immeasurable influence on groups like The Beatles and The Rolling Stones.

1953--Richard Starkey's mother marries Harry Graves, who becomes Richard's (Ringo Starr's) stepfather.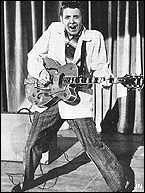 1960--Eddie Cochran dies in a hospital in Bath, England, from severe brain injuries sustained in a car crash near Chippenham, Wiltshire. Also injured in the crash are Cochran's girlfriend, Sharon Sheeley, and rocker Gene Vincent.

1961--The Beatles perform at the Top Ten Club, Reeperbahn, Hamburg, West Germany.

1962--The Beatles perform at the Star-Club, Hamburg, West Germany.

1963--The Beatles perform at the Majestic Ballroom, Luton, Bedfordshire.

1964--The Ford Mustang is formally introduced with a base price of $2,368.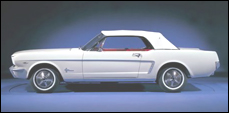 1964--The Beatles continue filming for their first movie "A Hard Day's Night" at Les Ambassadeurs in London, shooting the "discotheque" sequence. During the day, The Beatles squeeze in an interview with Ed Sullivan, who had flown over from America to film The Beatles on location. Sullivan doesn't get much of an interview, though, only 1 min. 34 secs. But Sullivan unknowingly gets a real treasure. He is given a film clip from the movie to air on his television program: the You Can't Do That performance from the "live television concert" scenes shot at the Scala Theatre. When the song is cut from the movie during final editing, Sullivan is left with exclusive footage that will only be shown on his television show. Broadcast on May 24.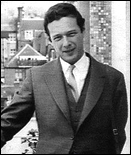 1965--Brian Epstein goes to Spain on vacation.

1966--The Beatles in the recording studio (Studio Two, EMI Studios, London). Recording Doctor Robert, the basic track being completed in seven takes.

1970--UK release of Paul McCartney's LP McCartney (Apple). Songs: The Lovely Linda, That Would Be Something, Valentine Day, Every Night, Hot as Sun / Glasses, Junk, Man We Was Lonely, Oo You, Momma Miss America, Teddy Boy, Singalong Junk, Maybe I'm Amazed, and Kreen-Akrore.



1970--John Lennon says in Rolling Stone (in regard to the release of McCartney: "I'm telling you what's going on. It's John, George and Ringo as individuals. We're not even communicating with or making plans about Paul. We're just reacting to everything he does. It's a simple fact that he couldn't have his own way, so he's causing chaos. Paul was the same with Brian (Epstein), at the beginning. He used to sulk and God knows what. It's always been the same, only now it's bigger, because we're bigger."

1986--IBM produces the first megabit-chip.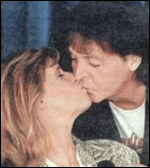 1990--UK re-release of Paul McCartney's LP McCartney (EMI). Although a 20th anniversary reissue, it was not intended as a part of a reissue series, but to assure that the LP remained available after it had been deleted on the Fame label.

1998--At 5:04 a.m. (Pacific Time), Linda McCartney dies in Paul's arms at their Tucson, Arizona ranch. For two years, she and her family had thought she was winning her fight against breast cancer, but it was not to be. The news of her death is kept secret until Sunday, and the location is not announced until Wednesday, in order to give the family their needed privacy. Shortly after her death, Paul arranges to have her cremated, and he will later bring her ashes back to England. Paul's mother also died of breast cancer when he was 14.

For more day-by-day history go to HistoryUnlimited.net